March is SUDC (Sudden Unexplained Death in Childhood) Awareness Month! During SUDC Awareness Month, families in the UK and across the world will be sharing information about SUDC and their children and completing acts of kindness in their memory.
In addition to the positivity of awareness, spring is full of hope for bereaved families in this country. With no explanation for their child's sudden death, many have been coping with complicated grief and the effects of trauma in isolation. Soon they will finally be able to reconnect with family and friends. This is so very important.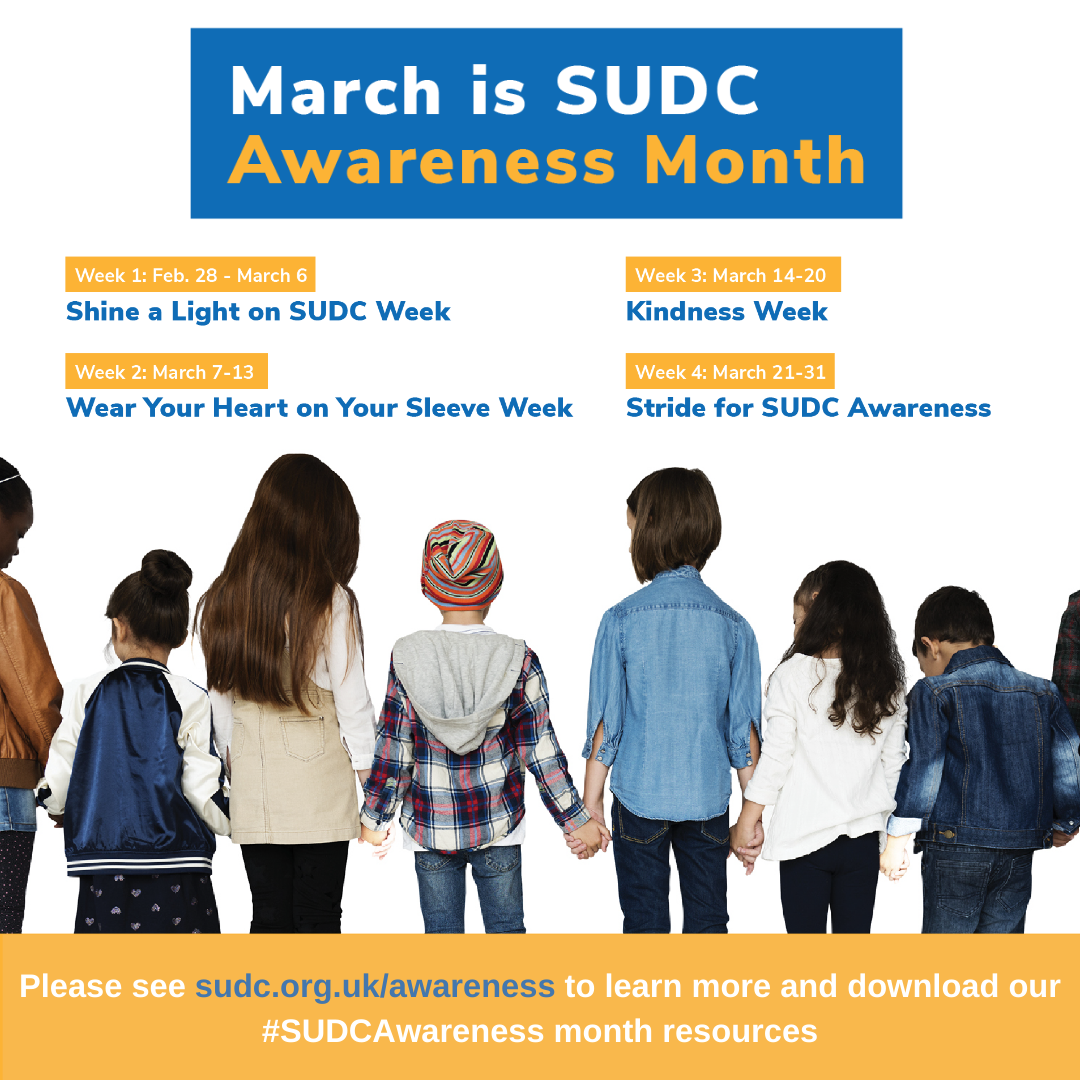 What is SUDC?
Sudden Unexplained Death in Childhood (SUDC) is the sudden and unexpected death of a child between 1 and 18 years of age, which remains unexplained after a thorough investigation is conducted. This must include; examination of the death scene, a post-mortem and a review of the child and family's medical history.
Most often it occurs in seemingly healthy children during sleep.
Sadly, at this time, we do not know what causes SUDC and medical professionals do not know how to predict it or how to prevent it.
40 children in England and Wales die every year without reason; more young children than to traffic accidents, drowning or fires.
SUDC is a 'category of death', not a cause of death. There are most likely multiple reasons why these children are dying.
The sudden unexplained death of a child is one of the most under-recognised medical tragedies of our time.
Awareness of SUDC is incredibly limited. Often the first time people learn about it is following the death of a child; even for doctors and other medical professionals. To raise awareness, improve care for families and raise funds for research we need your help.

SUDC UK, a young but determined registered national charity dedicated to SUDC, has already brought together over 50 bereaved families, granted £128,000 to research to help prevent deaths in the future, and educated over 1000 professionals to support their work caring for families.

Please help SUDC UK raise awareness of Sudden Unexplained Death in Childhood this March by following them on social media and supporting their efforts using #SUDCAwareness. For more information, to donate or to register for support