It's time to start thinking of the man in your life: your father, or yourself. For Father's Day 2022, we've put together an overview of some of the best new James Bond gifts for men, as well as a few of our perennial favourites for a Father's Day Gift.
Personalised:
Time to make it individual with luxury accessories you can engrave or emboss. Take a look at the new SPECTRE symbol personalised notebook (£98) and card wallet in black leather (£98). Sky blue and red options have just been added to the 007 notebook and wallet range, while the new zipped accessories case is a perfect place to store your cufflinks and Omega (£198). Mix it up at the home bar with the new monogrammed martini shaker (£98), or get them ready for duty with a personalised ID card, complete with their picture and name (£i5).
Cufflinks:
It's all about the detail. A set of the new Bond family crest cufflinks, handmade in silver, add elegance to any look (£140). Go for the target with gold-plated mini golden guns or gold bullets (£140). Scaramanga would approve.
Socks:
The Commander, The Baron or The Shaken? Put your best foot forward with a set of James Bond socks. Available individually (£12) or in gift sets of six (£60) or three pairs (£3o), take your pick with designs from the 007 universe all created by The London Sock Exchange.
Cars: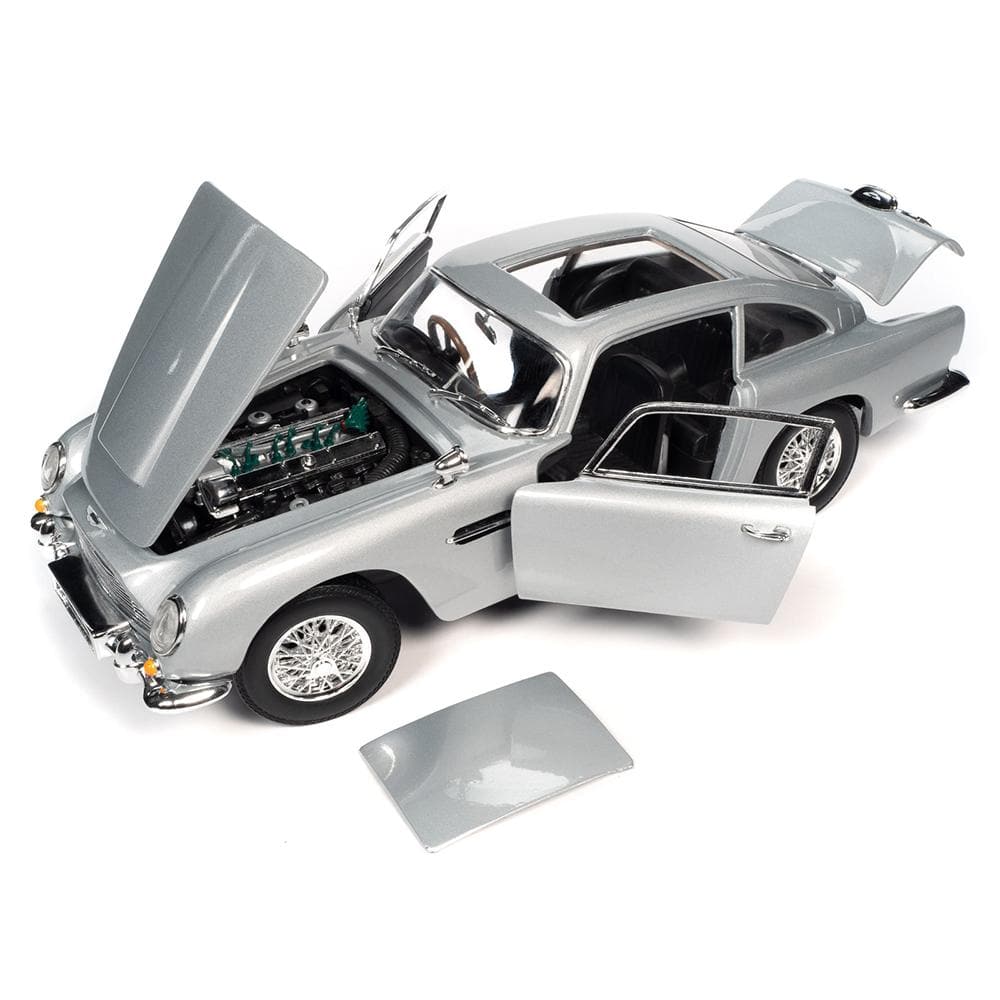 Now about a fast moving gift. Liven up the fridge with the new set of DB5 magnets (£11.95(; take a Bond car coffee table book out for a spin or celebrate the design genius of Ken Adam with a Goldfinger gadgets art print. A gift boxed 007 car keyring by Aston Martin, Land Rover, Jaguar or Lotus is always popular. Prices from £15.95.
Golf:
Hit the fairway with a hole in one gift. Penfold's both anniversary golf tools are boxed and ready to give (£60), while the new grey 007 Chilly's bottle (£36) and "licensed troubleshooter" hipflask (£19.95) are ready to fill. Keep it fresh with a 007 polo shirt made from organic cotton (£30).
Accessories:
Elevate the commute with a Globe-Trotter Dr. No dot attache case (£1495) or a colourful dot silk pocket square for the jacket pocket (£20). Sunglasses are a year-round essential and there's a frame to suit all styles in Barton Perreira's 007 legacy range (prices from £340). The new 007 leather trinket tray is the place for cufflinks, coins and keys (£89). Or head for a very special hat. Auric's flat cap and Oddjob's bowler are handmade by royal hatters, Lock & Co. Prices from £245.
Mugs:
Quote, heat-change, poster art or 9ct gold: update the coffee break with a new mug. The James Bond bone china collection features classic lines from 007 and Q, while Bella Freud's are a little more villainous. Prices from £12.95
In celebration of. Inspired by. As seen in. The 007Store.com is the official online store featuring products inspired by the James Bond franchise. The store combines legacy pieces with a modern crop of designer collaborations. Highlights include collabs with Bella Freud, N.Peal, Globe-Trotter, Charbonnel et Walker, Orlebar Brown, The Royal Mint and Swatch, alongside made-to-order exclusives.
About 007Store.com – The only official store for James Bond merchandise, the oo7Store has weekly launches on its USA and international sites. Find a range of exclusive items, from designer collaborations and sartorial accessories, to t-shirts, model cars and archive prop replicas as a Father's Day Gift.