Malaysia is one of the lowest populated countries in Asia, which means it benefits from masses of stunning landscape and scenery to satisfy any outdoor fanatic. People move to Malaysia for many reasons including the fantastic job prospects and the cheap cost of living. If you love camping and you're seeking somewhere with a great work-life balance, beautiful cuisine, and picturesque wildlife, then keep reading, as we present to you six Malaysian campsites guaranteed to push you over the fence.
Living in Malaysia
Before we get started, here are some benefits of living in Malaysia: with the soaring tropical temperatures all year round, you'll never have to worry about the winter weather keeping you snug indoors when your heart longs for the great outdoors. What's more, you'll benefit from Fridays off, meaning you can make the most of Friday and Saturday as your new weekend. This is because Malaysia is predominantly a Muslim country where the working week is Sunday to Thursday.
If this is enticing you to look into moving to Malaysia, head over to Propertyguru.com.sg to find out everything you need to know about the BOC Home Loan which will give you a leg up. Further, you can browse their huge database of pristine Malaysian homes available to buy or rent and turn your dreams into a reality.
Royal Belum State Park
Kicking our list off in true style is the Royal Belum State Park, boasting Earth's oldest rainforest. Leave the chaos of the bustling city and take your tent for a pitch amongst the wildlife. Set up camp by the Temenggor lake and set out during the day on an unforgettable jungle trek. Rumor has it that lucky people have managed to spot the rare Rafflesia plant.
Tiarassa Escapes
For those of you that love the great outdoors but enjoy the luxury of modern living, TiarassaEscapes is the perfect campsite for you. Set at Janda Baik, this site is set up with plenty of tents and rooftop villas. You can make the most of switching off and filling your camper needs. While there, you can relax in the outdoor pool, enjoy a quaint picnic in nature, and gaze up at the unpolluted night sky for some quality stargazing.
Tadom Hill Resort
Bringing in reason number three to make the Malaysia move is Tadom Hill Resort, located just 45 minutes from Kuala Lumpur. This resort is bamboo-made and is set between magnificent limestone cliffs and clear lakes. Quench your wanderlust by enjoying a trek through the lush forest, river rafting, and ATV activities. With a stay at this unique outdoor resort, you can relax and have all your meals taken care of with their all-inclusive packages.
The Sticks
Nestled in the rainforests of Kuala Bharu, this eco-friendly jungle resort is well and truly off the grid. To get to the resort you have to trek through 10 minutes of the jungle and cross a rope bridge. When you get there, you can set your things down in one of the extremely comfortable tendoks and relax while you fill your visit with thrilling activities. The nearby river makes it the perfect location for people seeking an exhilarating white water rafting experience. There are also numerous treks through the vast jungle to suit any age and capability.
Sea Horizon Resort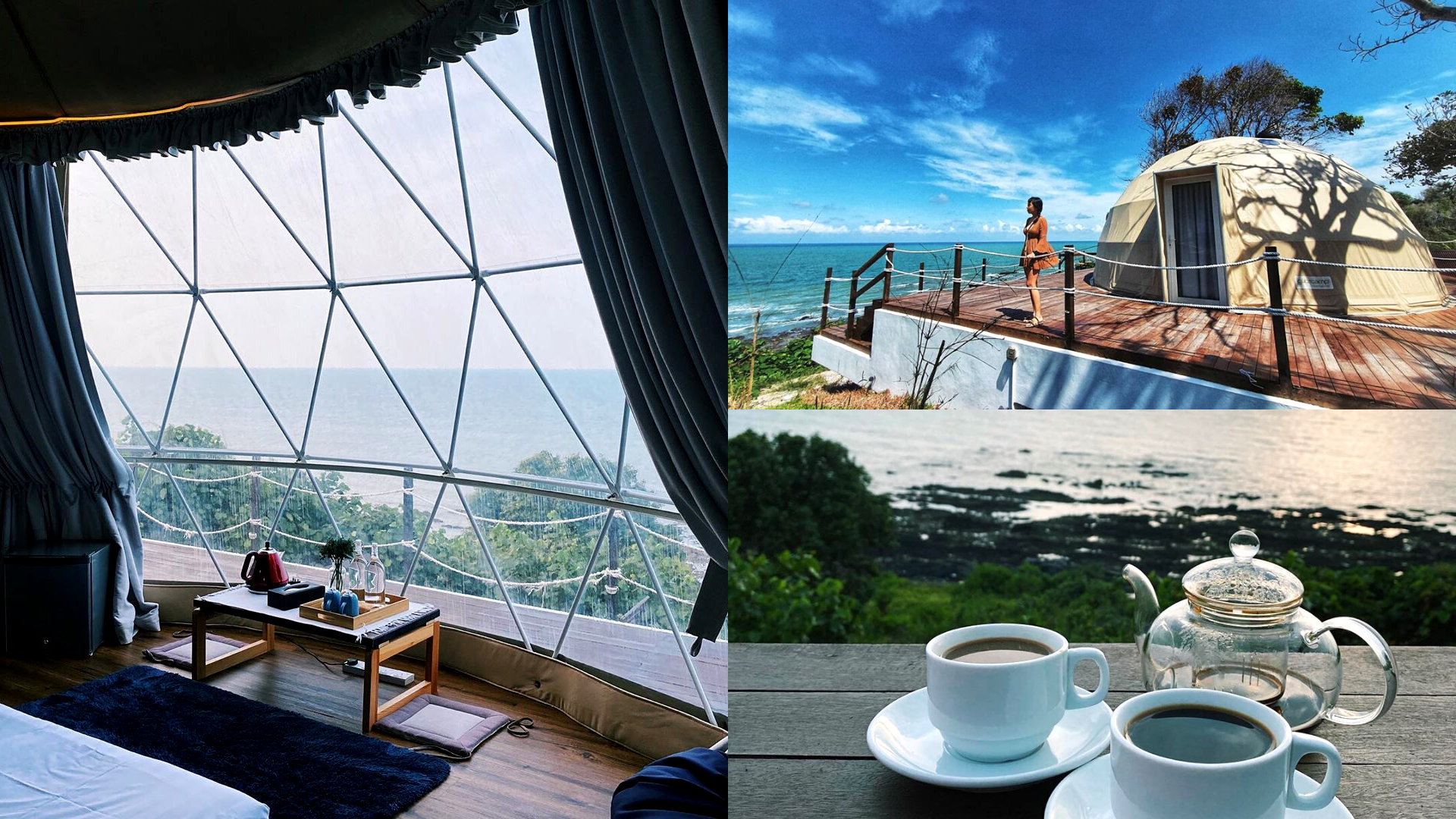 This glamping site is the perfect location for a serene staycation. Overlooking the breathtaking South China Sea, this cliffside resort is located in the sleepy fishing village of Sedili Besar in Johor. The design is based on the history and the architect of the surrounding villages. Although there aren't any vast jungles or exhilarating activities, a stay in one of the seaside dome tents is the perfect way to relax after a hard time at work.
The Rubber Escape
Aptly located within the rubber estate, this absolute beauty spot is located a short 30-minute drive from Melaka city. This quaint secret escape is the ideal place to enjoy the great outdoors in peace and quiet, because of the small number of accommodation units. Switch off from the world and chill out in the infinity pool, order a bite to eat from the many food locations, and unleash your inner pop star in their karaoke bar.
From truly secluded glamping to the backward rainforest experience, Malaysia has something that will ignite anyone's outdoor spark. If the cheap living, quality way of life, and the working week weren't already enough to persuade you to make the move, then hopefully the above list has swayed your choice. This is just a random selection of perfect outdoor campsites; there are so many more Malaysian campsites to explore that the fun will never stop. The next thing to do is explore financing options through the link mentioned earlier and search for your dream home.